If you have a precious antique clock you know how important it is to keep them cleaned, oiled and in great condition. Part of cleaning your antique clock is knowing which is the best cleaning fluid to be using, and how to use it properly. We'll take a look through some reviews of bigger clock cleaning fluid brands, and how to apply them to your precious time piece without causing any damages.
Which Clock Cleaning Fluids to Buy
Price : £16.95
4.5*/5
Best for the cleaning of clock movements, hands & cogs, works best with brass, bronze & copper pieces and is a widely recognised cleaning solution amongst horological and antique collectors. Available in 250ml, 500ml, 1Litre & 5 Litres.
2. Horolene Clock Cleaning Concentrated Fluid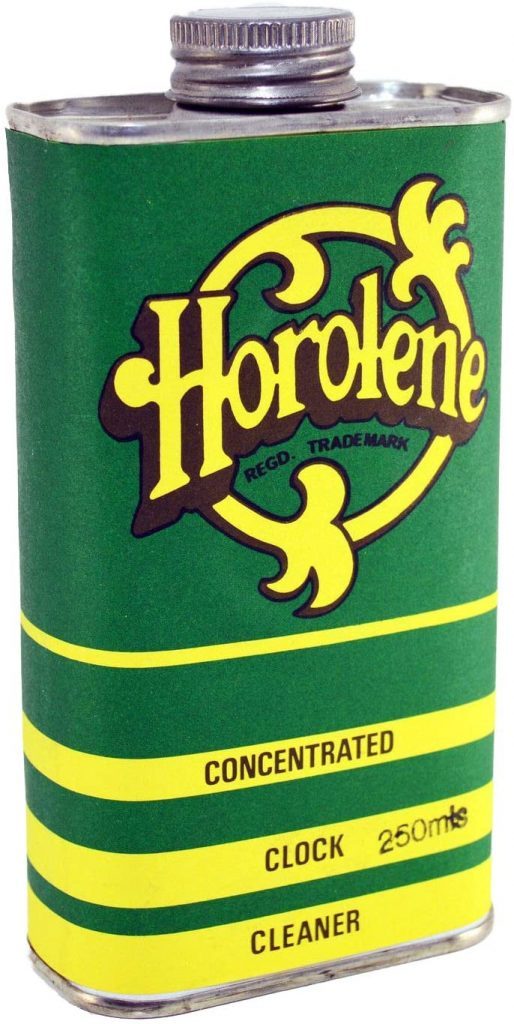 Price : £23.89
This concentrated cleaning solution dilutes up to 7 times with water, and is well known within the industry. Although is considered to be more expensive than most cleaning solutions, it is capable of removing all greases, oils, dirt's and tarnish from brass clock movements.
4.6*/5
3. Ultrasonic Brass Clock Cleaning Fluid Solution
Price: £14.99 for 1 Litre.
Ideal for antique clock cleaning, this solution is designed for more sensitive metals, and can remove oxidation and lacquer alongside grease and tarnish. This solution can be used as a soak or a spray and is the cheapest option when buying in bulk
4.4*/5
How to Apply Clock Cleaning Fluids
Cleaning fluids in most cases can be applied as a spray or as a soak, dependent on the brand. The three chosen brands above can be applied as both- so if you're using these then this is the perfect guide for you, if not – check the back of your solution bottle! it should tell you the best way to use it.
Before beginning the clock cleaning fluid application, it's incredibly important to remove all dust and visible bits of dirt, this can stop the dirt from spreading or scratching the surface of the clock and stops the dust from traveling to difficult to reach areas.
If you're using a concentrate solution you will have to mix this with water, it should indicate exactly how much water per how much solution on your bottle. typically it is 1 measure of fluid with 7 measures of cold water in a suitable container.
If you're choosing to soak the antique clock – which we argue is the best way for an all around clean but takes slightly longer you'll want to completely submerge your time piece in your cleaning solution after it has been diluted. Soaking does not take overly long and should be done depending on the amount of built up dirt, tarnish and grease you have, if your clock is considered to be very dirty 35-45 minutes should do, however if its only a light clean since your last you may only need to leave it soak for 20-25, remember that the longer you leave the solution on your clock the more likely you clock could fade, so it's best to remove completely from the solution around the 1 hour mark.
After removing from the solution, rinse through with room temperature water and a cloth, if you suffer from sensitive skin it may be best to wear gloves or protective clothing here as there are uses of chemicals. Be sure to take care whilst working with the solutions and avoid inhaling the vapour and Keep out of reach of children. Avoid contact with eyes, face, hair and skin. 
If you're choosing to clean your clock using a spray form then simply take your spray and gently wipe over a cloth on your time piece, remember this requires precision and steady hands, it is also the most effective way to clean smaller sections of grease, dirt and tarnishes.
Conclusion
To wrap up, you should now have some tips going forward to cleaning your precious or antique clock. Simply speaking, in order to keep your clock alive and healthy for many years to come you'll need to know how to take care of it, or take it to a local specialist who can clean, oil and service for you. For other helpful guides such as repairing clocks or adjusting pendulums, keep checking in with us.